Across the US there is a small group of z Systems Business Partners. But, PSR is the only IBM Business Partner that focuses exclusively on the IBM mainframe. In fact, that's been the story since we opened our doors in 1981. For almost 40 years we've offered our customers expert mainframe support, honest sales, and unparalleled service.
What to Expect When Investing in an IBM Mainframe with PSR
Our customers span from coast-to-coast, and each one receives support and attention catered specifically to their business. When you buy an IBM z Systems server from us you can count on:
A Painless Mainframe Installation and Migration

With our unique, proven, one-of-a-kind implementation approach you can trust that your installation and migration will be stress-free. We configure it, integrate it, and even let you test your mainframe in our data center before we install it in yours. The result? You're ready to run the moment you switch it on, eliminating the disruption, frustration, downtime, and added cost of having a technician at your site for weeks or months.

Acquisition, Financing, and Billing Expertise that Saves You Money

Mainframe is all we do, and we take the time to understand your specific requirements, now and going forward. Armed with this knowledge, we are constantly reviewing IBM's pricing structure and promotions to get the best prices available for your specific mainframe needs.

Personalized Service Based on a Long-term Relationship

PSR doesn't hand the care of your data center over to an outsourced technical staff. We've cultivated our own staff with over 300 years of collective experience on IBM mainframe systems. Our experts immerse themselves in understanding your shop. When you want help, you'll get it from someone who knows your environment.
Understanding IBM z Systems
IBM z13s
The z13s is IBM's premier business-class mainframe. This system is designed, priced, and sized for businesses looking to mainframe technology for greater IT efficiency and a competitive advantage.
It delivers up to 34% more performance per core and 43% more capacity in the same energy footprint, compared to prior generation and scales from 80 to 7123 MIPS, making it easier than ever to purchase the computing power you need. Specialty Linux engines make it a great choice for delivering workloads at a great price compared to alternatives.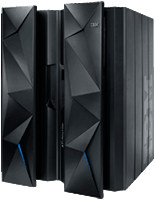 IBM zEnterprise EC13
IBM's enterprise-class zEnterprise EC13 is built to meet the demands of information-centric IT with efficiency at scale, operational analytics, and ultimate security. With 50% more total capacity than its predecessor and support for LINUX workloads, the zEC13 lets you scale traditional workloads while also consolidating hundreds of distributed systems onto a single machine.
The new IBM DB2 Analytics Accelerator offers a 2000x faster query response time in support of real time analytics. With high-speed cryptography integrated on tamper-resistant hardware, you can protect your data and conduct business with the highest level of integrity and trust.