IBM's current generation of mainframes is the z15 and includes model numbers 8561-T01 and 8562-T02. This family of servers are built with a 19" frame form factor for environmental savings and an industry-standard footprint for the modern data center.   Depending on processing and I/O requirements, one to four frames are available with up to 190 5.2 GHz configurable cores, up to 40 TB of RAIM memory, and increased cache. 
New features include expansion on Pervasive Encryption with data protection advancements such as IBM Data Privacy Passports, integrated on-chip compression to reduce encryption overhead, storage needs and improve data transfer rates.   The Z15 also benefits from IBM System Recovery Boost to substantially improve system recovery due to planned and unplanned events by utilizing additional system capacity on an LPAR basins without any additional IBM software charges. 
The Z15 will support z/OS 2.2, 2.3, 2.4;  z/VM 6.4, 7.1, 7.2; z/VSE 6.2; RHEL 6.10, 7.7, 8.0; SLES 11, 12, 15; Ubuntu 16.04, 18.04, 20.04 
Understanding IBM Z Systems
IBM z14 ZR1
IBM began formally shipping the new single-frame z14 ZR1 and LinuxONE LR1 on 5/31/18. These new single-frame models deliver up to 30 available processor cores, 8TB of memory, and the capabilities of z14 with a smaller 19" industry-standard footprint (one floor tile!), offering 10% more capacity than its z13s predecessor while occupying 40% less space. The z14 family is the only platform capable of delivering 100% encryption of data without any application changes, due to a significantly improved encryption accelerator. 
The new ZR1 and LR1 models feature the option of having 16U of free rack space to embed other equipment within the frame, such as IBM's 1U Hardware Management Console, a Trusted Key Entry (TKE) Workstation, Storage, or even x86 servers to further conserve data center space. The strategy behind these new servers enables the investment protection of enterprise applications from internal and external threats with the very best qualities of service.   
IBM has announced withdrawal from marketing of the 3907 models for physical upgrades effective 9/30/2021 and for any microcode changes effective 9/30/2022. 
IBM z14
The IBM z14 delivers improved security, insights, and a connected ecosystem designed for the trust economy. It provides secure data and transactions that enable data to serve as the new perimeter across the value chain, with continuous intelligence driven by machine learning to personalize and elevate your customer experiences, all delivered through an open and connected enterprise cloud that allows you to extend, connect, and innovate. 
The z14 features a 19" rack form factor with up to 35% more capacity with up to 32TB of system memory and up to 16TB per LPAR, with a fault-tolerant redundant array of independent memory. The z14's redesigned L1 and L2 cache architecture deliver 1.5x more on-chip cache per core. 
The Z14 models support z/OS versions 2.1, 2.2, 2.3, 2.4 
IBM has announced withdrawal from marketing of the 3907 models for physical upgrades effective 6/30/2021 and for any microcode changes effective 6/30/2022.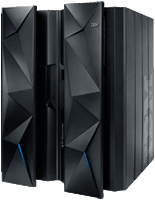 IBM 

Z

13
IBM has withdrawn from marketing of the z13 for new server builds and MES upgrades as of 6/30/19. Certified refurbished machines are available through PSR. 
IBM's enterprise-class zEnterprise EC13 is built to meet the demands of information-centric IT with efficiency at scale, operational analytics, and ultimate security. With 50% more total capacity than its predecessor and support for LINUX workloads, the zEC13 lets you scale traditional workloads while also consolidating hundreds of distributed systems onto a single machine. 
The Z13 models support z/OS 1.13, 2.1, 2.2, 2.3, and 2.4